News
On line and phone meetings to keep us connected NO MATTER WHAT!
We will add to this page as and when we can but for now On line and phone meetings to keep us connected NO MATTER WHAT!
Twelve Step Recovery:
Narcotics Anonymous – http://www.nabyphone.com/ or  https://online.ukna.org/
Alcoholics Anonymous – http://aaphonemeetings.org/  or https://www.alcoholics-anonymous.org.uk/AA-Meetings/Find-a-Meeting/
Cocaine Anonymous – https://www.ca-online.org/ or https://meetings.cocaineanonymous.org.uk/meetings/?tsml-type=ONLINE
Adult Children of Alcoholics – https://adultchildren.org/  or http://www.adultchildrenofalcoholics.co.uk/meetings_online.html
Al-Anon – https://www.phonemeetings.org/ or https://al-anon.org/al-anon-meetings/electronic-meetings/
Politicians need to work together to tackle the drug crisis as they are doing to fight Coronavirus.
Drug death campaigners have said politicians should stop playing political football and work together to tackle the drug crisis as they are doing to fight Coronavirus.
FAVOR Scotland have said that while tackling coronavirus must be Scotland and the UK's top priority, politicians must adopt a similar cross-party approach to tackle drug deaths.
This evening, FAVOR will hold their eighth monthly event to highlight that Scotland's drug deaths have risen to the highest in Europe over the last decade while residential rehabilitation beds have been cut to just 70 across Scotland.
The event will take place on Friday 13th March at Abbeycare's residential rehabilitation facility in Wishaw.
Annemarie Ward Favor CEO said: "While we totally understand that the focus is rightly on Coronavirus just now, we can't forget that Scotland has the highest drug deaths in Europe.
"If we saw politicians working together across parties to tackle drugs as they are doing on Coronavirus, the number of drug deaths could be reduced overnight."
Liam Mehigan, of Abbeycare residential rehabilitation, said: "We are delighted to be able to host the 8th monthly FAVORUK gathering at Abbeycare Scotland.
"We look forward to joining with other residential rehabilitation providers to highlight the efficacy and value of residential rehabilitation in saving and changing lives."
Karen Biggs, CEO of Phoenix Futures residential rehabilitation, said: "The FAVOR monthly drug death gatherings end that silence, give voice and visibility to recovery, empower people to share their stories, create connection, build motivation and offer possibility. They give hope.
"When we see people recover from their drug use we see a change in behaviour and in physical presence but what we are witnessing is an internal process of coming to terms with pain and hurt and process of healing. For some people a residential rehab programme is the safest most humane and effective way to achieve that healing."
Sign our statement in support of drug consumption rooms
Please email annemarie@facesandvoicesofrecoveryuk.org if you wish your signature or organisation to be added.
Drug consumption rooms are one harm reduction intervention in 23 recommendations from FAVOR Scotland's Report, Working together to challenge stigma & save lifes that could help with the rising drug death crisis.
Public Health England have reviewed the best available evidence for Drug Consumption Rooms and concluded that they can contribute to:
Reducing harms associated with drug use, particularly high risk injection behaviours
Reduce public drug consumption and publicly discarded drug-related litter, e.g. syringes
Improve access to medical services and referrals to other health and social care services
Decrease the incidences of syringe and pipe sharing
Reduce ambulance call-outs for overdoses in the local area
They are cost-effective, in terms of net saving and life-years and do not lead to a local increase in crime rates.
For the full report see here https://phe.koha-ptfs.co.uk/cgi-bin/koha/opac-retrieve-file.pl?id=9ae9fae9b094afc8c0656db4bccd44d5
Or download it here DrugConsumptionRoomsEvidenceBriefingV02.00 (1)
Therefore we, the undersigned, support the development of Drug Consumption Rooms across the UK in areas where there is evidence of need. 
Drug action group: 'furious' response if governments play politics
Drug action group: 'furious' response if governments play politics
Favor Scotland have warned the Scottish and UK governments to expect a "furious" response from the families of drug death victims if they play political football at the drug summits in Glasgow this week.
As part of their campaign, 'You Keep Talking, We Keep Dying', Favor Scotland will be participants at the Scottish Government summit on Wednesday and protesters at the UK Government summit on Thursday.
The group have said these summits must result in serious action that starts to save lives and politicians must leave their slogans at the door.
Favor's report, published in November 2019, called for the Scottish Government to take forward 23 recommendations including:
·        A 35 per cent funding increase to drug recovery budgets
·        £15.4 million for residential rehabilitation beds
·         A public health emergency to be declared with a co-ordinated response from the third sector, councils, police and health boards.
·         The creation of a lived experience panel to direct the current task force and inform the Scottish Government in their actions.
·         The Scottish Government to introduce a Recovery Minister or Recovery Champion to immediately focus full-time on tackling the drug deaths crisis.
Annemarie Ward, CEO of Favor UK, said: "The families of drug death victims expect to see tangible and serious action out of these summits.
"There will be a furious response if two sets of governments turn up to play political football. They must leave their meaningless slogans and attacks at the door.
"The Scottish Government think they can solve this problem by shouting about the Tories and Westminster. They are not serious about saving lives.
"There is a direct link between the number of residential rehabilitation beds falling and the number of drug deaths rising. The Scottish Government are ignoring this because it suits them to blame Westminster.
"Meanwhile, the UK Government childishly refuse to work with the Scottish Government on basic things like organising the summit in the first place.
"We are disgusted that the drug deaths crisis is still being used as political football between Westminster and Holyrood.
"This isn't a game. People's lives are at stake. We need to see action, not a talking shop that makes politicians feel better about themselves."
Notes
FAVOR Scotland's report on drug deaths, published in November 2019, is available here: http://www.facesandvoicesofrecoveryuk.org/working-together-challenge-stigma-save-lifes/
G7 – Our 7th Monthly Gathering
Favor Scotland to plant 200 crosses on Valentine's Day for drug death victims
Drug death campaign group Favor Scotland will plant 200 crosses this Valentine's Day to remember those lost to drug-related deaths in the last few months alone.
Favor (Faces and Voices of Recovery) will hold their seventh monthly gathering at Springburn Parish Church from 12 noon this Friday, where they will plant the memorial crosses with the help of volunteers and people in recovery. 
The group have been campaigning for £15.4 million funding towards residential rehabilitation services in the 2020/21 Scottish Budget. At the moment, the Scottish Budget proposals claim to increase funding to tackle drug deaths by 60 per cent. However, Favor have said the increase is "nowhere near enough" and not close to 60 per cent as there is only an extra £12.7 million allocated for Obesity, Tobacco Alcohol and other Drugs.
Annemarie Ward, CEO of Favor Scotland, said: "While everyone is understandably thinking of their loved ones on Valentine's Day, we're going to take a few hours out to remember the hundreds of people we've lost to drug deaths in the past few months.
"Behind every one of those drug deaths is a family in mourning and a community of friends who have lost someone.
"These people could have been saved if the Scottish Government had invested in residential rehabilitation beds and provided better access to recovery treatment services over the last decade.
"The number of rehab beds has dropped below 100 at the same time as the number of drug deaths jumped to over 1,000.
"People need to be offered rehab beds and access to support that puts them on a path to recovery. Substitute medication will work for some people but it won't help everyone and it's supposed to be a short-term bandage, not a long-term solution.
"We hope the Scottish Government will start to get serious. I'm disgusted at the lack of urgency in the Scottish Budget. The proposed funding is nowhere near enough.
"Politicians of all parties need to ditch the political football and start delivering solutions."
Notes to editors
The crosses will be planted at Springburn Parish Church, 180 Springburn Way, Glasgow, G21 1TU.
Annemarie Ward and representatives of Favor Scotland will be available for interview on Friday
Favor Scotland calls for £15m funding to rehab beds in Scottish Budget
Favor Scotland calls for £15m funding to rehab beds in Scottish Budget
Drug death action group Faces & Voices of Recovery Scotland (FAVOR) are calling for the Scottish Government to deliver at least £15.4 million for drug rehabilitation beds in this year's Scottish Budget.
FAVOR Scotland are also asking every MSP from all parties to sign a two-line pledge that they will only back the budget if it delivers that funding for drug treatment rehab beds.
In 2007, Scotland had approximately 352 rehab beds in 22 facilities. At that time, there were 455 drug deaths in a year. By 2018, the number of rehab beds was down to less than 70 across three facilities, while the number of drug deaths increased to 1,187 people in a single year.
The £15.4 million figure was the fifth of 23 recommendations in FAVOR Scotland's report on drug deaths. The funding recommendation called for a one-time £15 million investment and an extra 35 per cent increase in the national treatment budget over the course of this Scottish Parliament term.
FAVOR Scotland's sixth monthly gathering will take place this Friday, 31 January at 5pm in headhunters studios in Glasgow.
Annemarie Ward, FAVOR Scotland CEO, said: "We understand MSPs will be asking for a wide range of funding guarantees for the NHS, Police Scotland, homeless services and many other policy areas.
"But whatever other requests they make, we're asking that every single MSP commits to only supporting the Scottish Budget if it also includes £15 million for drug rehabilitation beds.
"The rise in drug deaths has mirrored the lack of residential rehab beds. Since 2007, the number of rehab beds have plummeted at the
same time as the number of people dying has surged.
"As a first step to helping people get better and saving lives, we need to see immediate re-investment in rehabilitation, starting with this budget."
Natalie McLean, FAVOR Scotland Community Director,
said: "We've been saying for months that politicians keep talking and people across Scotland keep dying.
"Despite drug deaths hitting record highs last year, there has been a shocking lack of urgency from all sides. The lack of action means that it is likely the 2019 drug death figures will be even higher. That is unforgivable.
"So FAVOR Scotland are saying that in this Scottish Budget, MSPs can't hide. They've got the chance to start saving lives and we're not going to put up with any more excuses.
"If the Scottish Government are serious about tackling drug deaths, £15 million for drug rehabilitation beds is the absolute minimum we expect from this budget."
Notes to editors
FAVOR Scotland's full report on drug deaths, published in November 2019, is available here: http://www.facesandvoicesofrecoveryuk.org/ resources/
The two-line pledge that FAVOR Scotland will be asking every MSP to sign states: "I will refuse to vote for the Scottish Budget unless it provides £15.4m for drug rehabilitation beds at a minimum. While I may make other requests of the Scottish Government, I will commit to only voting in favour of the Scottish Budget if that funding is delivered in full."
FAVOR Christmas Message 2019
#You                   #Keep                 #Talking            
#We                     #Keep                 #Dying
The work of Faces And Voices Of Recovery UK has traditionally been focused on areas like hope and connection, as evident in the Recovery Walks that we initiated eleven years ago, the number of which continue to grow each year.  Our campaigning had continued to be even more successful than before, with 128 organisations, 48 MPS and thousands of individuals signing up to one of our causes (The UK Recovery Declaration of Rights.)
However, in the summer of 2019, we were presented with a very different challenge.  Official figures were released in the summer to confirm that the number of drug-related deaths for 2018 had reached unprecedented levels; 1,187 people had been lost in Scotland alone.  Our horror and our sorrow were shared with others, and we soon created a working group alongside Natalie McLean who had co-incidentally experienced another personal loss to drugs that same week.  This was the catalyst for the first of what were to become monthly events. It was quickly decided that the most appropriate action to take would be a vigil of remembrance, in George Square, to mark these tragic losses, and to remind everyone that each drug related death was the loss of a human being, and that loss continued to be felt by those left behind.  One thousand, one hundred and eighty-seven of these losses could not be allowed to simply pass from memory.
After heroic efforts from all involved, a vigil was held in George Square just seven days after our discussions began.  While the publicity was limited, and even uncertain in its purpose, around 400 people attended.  What unfolded was an outpouring of emotion from family members who spontaneously lined up to take their first opportunity to talk openly about their loved one, in the safety of those who knew their pain. But something else happened that night.  A solidarity was formed around ensuring that this must stop, that the government and the leading organisations in the field must feel the same and that everyone must come together to turn the tide.  Many of those in attendance told us that this must not be the end, we must keep going.
By coincidence, only 4 weeks away, on Saturday August 31s, was International Overdose Awareness Day.  The group got together with the expectation that we would engage with events organised for that crucial landmark.  To our astonishment, in the wake of such tragic loss of life, we could not find anything.  Not only was there no response to such tragedy, but there had been nothing in place for such an important day, anyway.  It was decided that we would have to do and arranged another event to be held on International Overdose Awareness Day, again in George Square.
The task had become greater, and at that week's meeting, it was identified that a licence would be required for the next event, and that needed the support of an organisation.  The group instructed FAVOR to abstain from the next discussion and unanimously resolved to work under FAVOR UK, with one condition, that FAVOR Scotland would emerge.
Approximately 1,200 people showed up to the August event, including 5 MPs and MSPs & numerous local councillors.  The day was both humbling and emotionally overwhelming.  While the public interest in the problem of drug related deaths had continued to grow, and had earned the commitment of support from politicians, there was still no engagement from other organisations who had the capacity to lead, but still failed to engage.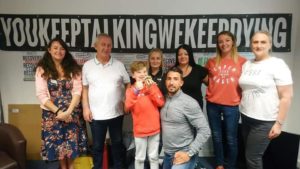 Where was the outrage?  And where was the urgency?  At that event, we continued to hear more testimonies of more deaths, that were discovered that very day, and that very week.  More poignantly, we were also informed that one of those who spoke at the previous event had also become another of next year's statistics.  Last year's deaths were higher than ever recorded, and reports of deaths in the current year were increasing by the day.  We were outraged and we demanded urgency from others.
We have continued to hold public meetings each month, in the hearts of some of the most affected communities.  We have gathered evidence of the problem and the public's demands for change.  We have been invited to meet the Public Health Minister to discuss both the problem and the testimonies we have heard.  We have complied the evidence and public demands and presented 23 evidence-based recommendations to end this loss of life.  We have submitted our Report (Working Together to Challenge Stigma & Save Lives) Which the Health Minister Joe Fitzpatrick has passed on to his taskforce to action and to date we await a public response from them.
We made a solid commitment then as the organising group who created FAVOR Scotland and as a board at FAVOR UK to make the drug deaths part of our ongoing campaign work for at least the next two years.   We have committed to monthly awareness raising events to keep this ongoing tragedy in the public eye and will continue to do so until we see the change that is required.
We intend to hold our governments to account in the months and years that follow until either all of our 23 recommendations are implemented, or the loss of lives are brought to an end.
On Friday I drove down to Newcastle for the third monthly planning meeting of the UK Recovery Walk 2020. The planning this year is filled with professional expertise and huge enthusiasm. The will to get the job done and to make UKRW Newcastle 2020 the best ever is palpable, and I am energised & grateful in contrast with our work in Scotland with every visit.   Some of the plans we can look forward if they come to fruition are to include, a free funfair for the kids (big ones too) free food, choice of vegan, and other lovely dietary choices, potential stars in attendance, face painting, mutual aid meetings, spiritual service and of course our wonderful conference the day before which in 2020 will focus on the LGBT community and our particular difficulties with substance use disorders and our trials  & tribulations recovering from them. We will as always here from a range of academics that specialise in this area, personal experiences and we have also secured a key note from the English government's official recovery champion Professor Ed Day.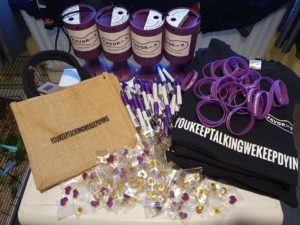 So it looks like we will be walking into a 2020 with a delicate balancing act on our hands. We will continue to campaign using the slogan #YouKeepTalkingWeKeepDying in Scotland with the hope that this campaign gathers momentum with the public across the UK & that the professional bodies who currently aren't engaging with it will get on board either privately or publicly join our almost 4000 members across the UK and recognise & utilise the strength we have in our autonomy.
At one point this year we were asked in a very aggressive, defensive manner –
"I mean who even are you"
We are a national charity, made up of individuals in recovery, their friends and families and Community Recovery Organisations.
We are a policy advocacy movement that is taking on issues of discrimination, social justice and service access. A public and professional education movement, intent on challenging stigma.
That's who we are.
We will continue to do this to the best of our ability and if you think we can do better please get in touch and offer your help. If there is one thing we get better at as people in recovery it is receiving and asking for help. We are open to guidance and learning and welcome input even from our severest critics.
Natalie, I and all the volunteers will wish you a very Merry Christmas & all the very best for the coming year with this wonderful quote about criticism – it just about sums up how we feel about this year.
We Hope you enjoy.
"It is not the critic who counts; not the man who points out how the strong man stumbles, or where the doer of deeds could have done them better.
The credit belongs to the man who is actually in the arena, whose face is marred by dust and sweat and blood, who strives valiantly; who errs and comes short again and again; because there is not effort without error and shortcomings; but who does actually strive to do the deed; who knows the great enthusiasm, the great devotion, who spends himself in a worthy cause, who at the best knows in the end the triumph of high achievement and who at the worst, if he fails, at least he fails while daring greatly.
So that his place shall never be with those cold and timid souls who know neither victory nor defeat."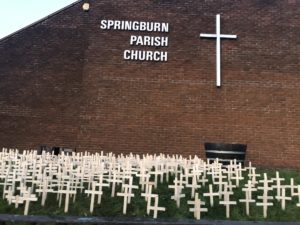 Vote Thursday December 12th
One of the gifts of recovery is enjoying the rights and responsibilities of being a productive & contributing member of society. One of the benefits of being an active citizen in the UK is being able to vote.
You can register here:
https://www.gov.uk/register-to-vote
You can find out who your current MP is here
http://www.theyworkforyou.com/mps/
ASK THEM AND THE OTHER CANDIDATES WHERE THEY STAND ON THE OTHER ISSUES THAT YOU CARE ABOUT MOST AND USE YOUR VOTE.
WE HAVE BEEN THROUGH THE ELECTION MANIFESTOS OF THE MAIN POLITICAL PARTIES IN THE UK AND PULLED OUT ANY REFERENCES TO POLICIES ON ADDICTION AND RECOVERY BELOW. PLEASE LET US KNOW IF WE HAVE MISSED ANYTHING YOU THINK SHOULD BE INCLUDED.
P35
'drug misuse can have a debilitating effect on people and their loved ones. Howeverr, the current hardline approach to drugs criminalises citizens who have an addiction but does nothing to help them overcome their problems. It also criminalises people may use drugs medicinally or recreationally but who do no harm to others
Rather than focusing services on all drug users, we believe we should focus on the small number of people with dependency and seek to address the underlying causes of their misuse via checkpoint Cymru.
Drugs have been decriminalised in Portugal since 2001, enabling a public health approach to drug users; dissuading new drug users and encouraging dependent drug users to enter treatment whilst focusing police resources on those who profit from the drugs trade.
By sending the message that drug users are not criminals, the reform has contributed towards a greater tolerance and integration of drug users into society. It has reduced the stigma around drug use and has allowed more users to access the treatment they need.
Moreover, drug use in Portugal has decreased since decriminalization. Its drugs prevalence is below the EU average and, for example, it now has the lowest rate of cannabis use in the EU. Rather than turning more people towards drugs, decriminalization has allowed people to receive the treatment they need.
For these reasons, Plaid Cymru is calling for a National Commission on reforming drug law'
P43
'Plaid Cymru will adopt a 'housing first' philosophy – as implemented in
countries like Finland – to support those that are homeless. Recovery
programmes are more successful after an individual has been housed.
Being asked to be abstinent and/or sober whilst homeless prior to
receiving housing is impractical.'
P47
'Community-based interventions are more effective at reducing re-
offending and social exclusion than short-term imprisonment. Short
custodial sentences offer limited opportunities for rehabilitation and
many people leave custody with the same underlying issues as when
they entered.
We believe that a preventative approach across health, criminal
justice, education and other settings is more effective in tackling
youth offending. Addressing the underlying causes of crime, such as
protecting children from abuse or neglect, is proven to reduce criminal
behaviour. In civil matters, early intervention and sound advice can
prevent the involvement of the courts and can reduce hardship for many
people.
As part of our preventative approach, we will implement a long-term
substance use harm reduction strategy. Problems and deaths from
substances are more prevalent in Wales than other parts of the UK.
We want to reduce substance use and substance related deaths by
investing in a long-term strategy. This should focus on harm reduction
through a wide range of services and education programmes that treat
problematic substance users as patients rather than criminals.'
P50
'We do not believe that super-prisons are the most effective way of
combating crime nor the best use of our resources. That is why we
opposed the building of the Berwyn super-prison in Wrexham and the
proposed super-prison in Port Talbot which was scrapped due to our
opposition.
Entering the criminal justice system can either be a symptom of or
cause longer-term issues. These include homelessness, mental health
issues and substance misuse. Almost 25% of Welsh inmates were
homeless when they entered prison, over 90% of prisoners have at least
one of five psychiatric disorders, and there was a 475% increase in drug
finds in prisons over the last year.
Poverty and poor health are being criminalised. This needs to change
by ensuring that support services are well-funded and by tackling the
underlying issues that can lead to criminality.'
p 37.

Labour's workplace policies and investment in housing, education and communities will enable the root causes of health inequalities to be addressed.

Drug deaths in Scotland have more than doubled since 2008 and the latest figures show that in 2018 more than 1,000 people died from drug misuse in Scotland. A Labour government will establish a Royal Commission to develop a public health approach to substance misuse, focusing on harm reduction rather than criminalisation.

In Scotland, addiction services need to be better integrated with mental health treatment. Scottish Labour want increased resources for communitybased interventions and restoration of alcohol and drug partnerships' funding levels to replace the over £40 million of real terms cuts that services have faced since 2014/15.

Alcohol consumption is still at harmful levels in Scotland so we support restrictions on licensing, marketing, labelling and affordability. To improve alcohol treatment and early intervention programmes for families with children Scottish Labour want to see the implementation of a social responsibility levy on alcohol sales.

p 44

To be effective, our police must serve their communities and work collaboratively with youth workers, social workers, mental health services, schools, drug rehabilitation programmes

p46-47

Smarter justice requires cross-government action to reduce the impact of adverse childhood experiences and to break the vicious cycle of poverty, inequalities and crime. We would champion a joined-up, trauma informed approach, fostering close working relationships between criminal justice and education authorities, health services and others. We will build on  the brilliant work done by the Violence Reduction Unit and ensure vulnerable people get the support they need. This is only possible with a government committed to boosting support for public health, mental health and early years services. Prison is not the best place to address the drug addictions, mental illnesses and debts that lead many people into crime.

(does not make further comment on how these issues will be explicitly dealt with, esp. drug addition)
Conservatives
https://assets-global.website-files.com/5da42e2cae7ebd3f8bde353c/5dda924905da587992a064ba_Conservative%202019%20Manifesto.pdf
p19 'Addiction Drug addiction fuels crime, violence and family breakdown – and new dangerous substances are driving an increase in deaths from drug abuse. We will tackle drug-related crime, and at the same time take a new approach to treatment so we can reduce drug deaths and break the cycle of crime linked to addiction.'
The nature of this treatment is not outlined.
p46 'Alcohol Duty Review: Scotch whisky is a national export that supports 42,000 jobs across the UK. Yet the tax on each bottle of Scotch sold in this country represents almost three quarters of its price. That is why over the past two years we have frozen the duty on spirits, cutting the price of a bottle of Scotch by 30p. Now, we want to do more, which is why we will review alcohol duty to ensure that our tax system is supporting British drink producers.'
SNP
https://www.snp.org/policies/pb-what-is-the-snp-doing-to-tackle-alcohol-misuse/
The SNP Scottish Government has introduced a minimum unit price for alcohol in Scotland after the UK Supreme Court unanimously approved Scottish Government plans. Minimum unit pricing was passed unopposed in the Scottish Parliament and backed by public health professionals, the police and alcohol charities.
We will also invest an additional £20 million in alcohol and drug treatment and support services to back up our new alcohol and drug strategy, Rights, Respect & Recovery, which sets out our ambitions around multi-agency support. This is in addition to the £746 million we have invested to tackle problem alcohol and drug use since 2008.
snp manifesto
–https://s3-eu-west-2.amazonaws.com/www.snp.org/uploads/2019/11/11_27-SNP-Manifesto-2019-for-download.pdf
p5 
Tackling the drugs crisis SNP MPs will call for the devolution of drug policy so the SNP Scottish Government can take all the steps needed to tackle addiction, reduce health risks and take the vital steps to tackle drug-related deaths and harm in Scotland.
•
p14
Pushing for a new approach on drugs 
The SNP sponsored a Private Members Bill aimed at legalising safe drug consumption rooms for people suffering from addiction. The Bill would create safe consumption rooms to help reduce the number of people dying from drug overdoses and tackle a rise in HIV among drug users.
p15
In 2018 there were 1,187 drug-related deaths in Scotland – the highest since records began. Each death is a tragedy for the victims and their families. In response, the SNP Scottish Government recently established a task force to tackle this problem in partnership with frontline agencies, those in recovery, and their families. However, we know there is much more that can be done at a UK level to tackle drug deaths. In the House of Commons, Alison Thewliss introduced a Private Members' Bill aimed at legalising safe drug consumption rooms. The facilities have been proposed by Glasgow's Health and Social Care Partnership, and has gathered cross-party support from MPs at Westminster and a majority of MSPs in the Scottish Parliament, as well as the unanimous backing of Glasgow City Council. However, the Home Office has repeatedly ignored the evidence and blocked the proposals – refusing to allow the facilities to be piloted. The Scottish Government is unable to implement the proposals due to the 1971 Misuse of Drugs Act being reserved to Westminster. It is only with a strong group of SNP MPs returning to the House of Commons that we will be able to pressure the UK government to heed the evidence and take action.
Experts and those with lived experience stress that a Supervised Drug Consumption Facility (SDCF) could reduce the harm associated with drug use, and afford those with a drug addiction the dignity of a safe, clean space where they can engage with support services. Drug deaths are a public health emergency and we desperately need a fresh approach. The Tories have displayed a shocking lack of empathy towards people struggling with addiction. If the UK government refuses to act, then they must devolve the powers to Scotland so that we can step in and help to save lives.
19 
Powers to tackle the drug crisis Recent statistics showing a rise in the numbers of drugs deaths in Scotland means that we must act urgently to save lives. The Scottish Government has put in place a further £20 million over two years to support local services and provide targeted support but we want to go further and take the radical step of creating a supervised Drug Consumption Facility (SDCF) in Glasgow. The Scottish Parliament has backed these plans and MSPs from all political parties – except the Conservatives – have united to call on the UK to change the law and allow the facility to be opened. It will save lives and make our streets safer. Despite this, the UK Government has refused consent. This decision is actively preventing Scotland tackling vital issues that are a matter of life and death to some of the most vulnerable people in our society. SNP MPs will therefore call for: • the devolution of Misuse of Drugs Act to allow for the full range of effective public health measures to tackle the drugs death crisis, and • pending that devolution, the UK Government to introduce a Supervised Drug Consumption Facility
Labour p.34
https://labour.org.uk/wp-content/uploads/2019/11/Real-Change-Labour-Manifesto-2019.pdf
We will address drug-related deaths,
alcohol-related health problems and
the adverse impacts of gambling
as matters of public health, treated
accordingly in expanded addiction support
services. Alcoholic drinks will
be labelled with clear health warnings.
We will review the evidence on
minimum pricing.
Lib dems.
https://d3n8a8pro7vhmx.cloudfront.net/libdems/pages/57307/attachments/original/1574249539/Stop_Brexit_and_Build_a_Brighter_Future_CLEARPRINT.pdf?1574249539
The prohibitionist attitude to drug use of both Labour and Conservative Governments
over decades has been driven by fear rather than evidence and has failed to tackle
the social and medical problems that misuse of drugs can cause to individuals and
their communities. Liberal Democrats will take a different approach, and reform
access to cannabis through a regulated cannabis market in UK, with a robust
approach to licensing, drawing on emerging evidence on models from the US and
Canada. To combat the harm done by drugs, we will:
Move the departmental lead on drugs policy to the Department of Health and
Social Care, and, crucially, invest in more addiction services and support for
drug users.
Divert people arrested for possession of drugs for personal use into treatment,
and imposing civil penalties rather than imprisonment.
Help to break the grip of the criminal gangs by introducing a legal, regulated
market for cannabis. We will introduce limits on the potency levels and permit
cannabis to be sold through licensed outlets to adults over the age of 18.
Our approach will support and encourage more clinical trials of cannabis for medicinal
use to establish a clear evidence base. In the meantime, we will allow those who feel
that cannabis helps to manage their pain to do so without fear of criminal prosecution.
Greens
https://www.greenparty.org.uk/assets/files/Elections/Green%20Party%20Manifesto%202019.pdf
p.66
Ending the war on drugs Taking drugs can be dangerous but prohibition of drug use has created many more problems than it has solved. Over the last 50 years, the international war on drugs has been a resounding failure. Harmful drug consumption has markedly increased and has given rise to a multi-billion pound illegal industry that has fuelled organised violent crime and caused untold social and ecological destruction. There is little evidence for the two core assumptions that form the basis of current UK drug policy:
1. That supply-side enforcement can reduce drug availability and use.
2. That the criminalisation of people who use drugs is an effective deterrent.
The Green Party recognises that people have always and will always use drugs, including alcohol. Drugs perform many purposes in society, including recreational use and as part of medical treatment. Seeking to prevent drug use is demonstrably futile; we need a radically new system grounded in harm reduction. Government needs to strike the right balance between responsible adult drug use and the potential harms of problematic use. The taxes and licence fees that will apply to drugs under our proposed system will raise significant revenues.
Some of these revenues will pay for the harm that drug use can cause, including NHS time. Our Green plan to reduce harm and adopt an evidence-based approach will:
> Repeal the Misuse of Drugs Act 1971 and the Psychoactive Substances Act 2016.
> Pardon and expunge the criminal records of all individuals previously convicted for possession and small-scale supply of drugs.
> Enable medical scientists to conduct research on psychoactive drugs to develop new treatments for mental and physical illnesses.
> Invest in education and treat problematic drug use as a health issue, not a crime, building on the successful approaches pioneered in numerous other countries.
> Replace the current system of prohibition with an evidence-based, legalised, regulated system of drug control. The production, import and supply of all drugs will be regulated according to the specific risks that they pose to the individual, to society and to the environment.
> Make heroin available on prescription after a medical assessment by a doctor and provide safe facilities for users who inject drugs, building on the success of drug consumption rooms in other countries which have encouraged more problematic drug users into treatment.
> Regulate access for adults to stimulant and psychedelic drugs based on the evidence around harm reduction through pharmacies, after a safety consultation with a qualified pharmacist, at fixed doses and fixed prices.
> Make cannabis, labelled according to laboratory-tested strength, available to adults from licensed small businesses Cannabis will be sold subject to minimum unit pricing and plain packaging.
> Allow for licensed Cannabis Social Clubs where adults can collectively cultivate and consume cannabis and allow adults to grow a limited number of cannabis plants at home.
> Prohibit commercial advertising of alcohol (and all other drugs) and introduce minimum unit pricing, which has been shown to reduce harmful drinking in Scotland.
> Set up an independent statutory body, the Advisory Council for Drug Safety, comprised of experts, who will be responsible for monitoring patterns of drug use, advising the government on changes to regulation and sourcing socially and ecologically sustainable supplies of opium and coca from the Global South.
Our 5th monthly Drug Death gathering G5 will be held on the 6th of December in Springburn Parish Church
Please join us for our 5th Monthly Drug Death gathering. 
Please join us for a candlelit vigil at Springburn Parish Church and a procession through the town to mark the deaths of those who died and to show support for the families who are bereaved.
Please book a spot here if you can but dont worry if not just come on the day.
https://www.eventbrite.co.uk/e/springburn-candlelit-vigil-for-drug-deaths-tickets-76910849421?aff=efbeventtix&fbclid=IwAR2d9lmm6YFvQmJd57wAL7diOb9oYZ8JBey4o64gsfQ_5zKJX6cEDD9Mn8c
Were we are holding the Government to account.
Our 5th monthly gathering G5 will be held on the 6th of December in Springburn Parish Church from 4:30pm until 7:30pm.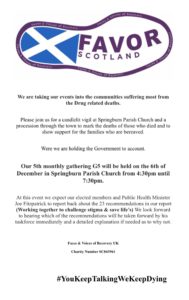 We expect the minister Joe Fitzpatrick to attend and let us know what he is doing about the 23 recommendations to stop the drug deaths we set out in our report delivered last month at G4 which you can read about at the links below. 
https://www.theguardian.com/society/2019/nov/01/scottish-government-urged-to-declare-drug-addiction-emergency
https://www.eveningtimes.co.uk/news/17999414.glasgow-drug-deaths-new-report-demands-immediate-action-crisis/
https://www.dailyrecord.co.uk/news/scottish-news/drugs-kill-scot-every-seven-20531578
https://www.eveningtimes.co.uk/news/18023607.stewart-paterson-drugs-summit-must-happen/
http://www.facesandvoicesofrecoveryuk.org/working-together-challenge-stigma-save-lifes/
or download the full report here
Working Together report 2019 final
Working Together to Challenge Stigma & Save Life's – Drug Death Gathering 4 (G4)
Faces and voices of recovery Scotland started to organise and mobilise those affected by the soaring amount of drug deaths in Scotland during August 2019, shortly after the latest abhorrent rise in death numbers came out.
Over 60 volunteers have been mobilised and so far and three gatherings organised. Through our weekly steering group meetings, the decision to create FAVOR Scotland was made to take forward the work of the group. All of this work has been done with very little money and very little or support from commissioned and funded services. Phoenix Futures is the only service that have given us a meeting place and a few of their volunteers.
This report is a result of three gatherings that have been held monthly two in George Square, Glasgow one on Friday the 4th of October in Maryhill community central halls.
The first two events being open speaker public meetings, the third a conference to address the public grief and ask for a list of the problems and the solutions as the communities who are suffering most see it.
Over 1600 people have taken part in our events so far and it is our intention to continue to organise and mobilise those who are most affected as the months and we are committed if necessary, as the years go on.
Scotland has a rich history of community organising and mobilising and some of the best policy in Europe with regards to the theoretical treatment of addiction. This document will clearly show that although policy in Scotland is first class, its effect on practice however is very limited.
Please find our report by downloading it here 
Special thanks to Everyone who contributed including
The Corra Foundation, Sharon Graham, Donnie Balloch, Michelle Kearney, James Docherty, Darren McGarvey, Donna Boyd, Mark Robb, Sam Hutcheson, John Hamilton, Peter Kyant, Karen Gillen, Lana Hunter, Tara Bruno, Derek McCabe, Jed Brady, Dougie McMillian, Tracy Lundie, Ria Din, JooJo Kyei, Barry Sheridan, Prof David Best, Anne Lawrence, Scott Mulligan, Andy Moore, Stephen Murphy, Patrick Grady MP, Monica Lennon MSP, Bob Doris MSP, Paul Sweeney MP, Miles Briggs MSP, Annie Wells MSP, Alison Thewliss MP, The Rev Brian Casey, all the twitterers who continue to support our Campaign #youkeeptalkingwekeepdying , all the staff & residents from Phoenix Futures & and everyone who came along to our events and who continue to inspire and engage with us on a daily basis.
Hugs & Thanks to you all. (Especially anyone we have forgotten) We have had a lot of help & couldn't have done it without you all.
Annemarie & Natalie and the trustees from @FAVORUK .
We hope you can join us on Friday 1st of November for our 4th monthly gathering at 9.45am till 11.45am
Possilpoint Community Centre, Glasgow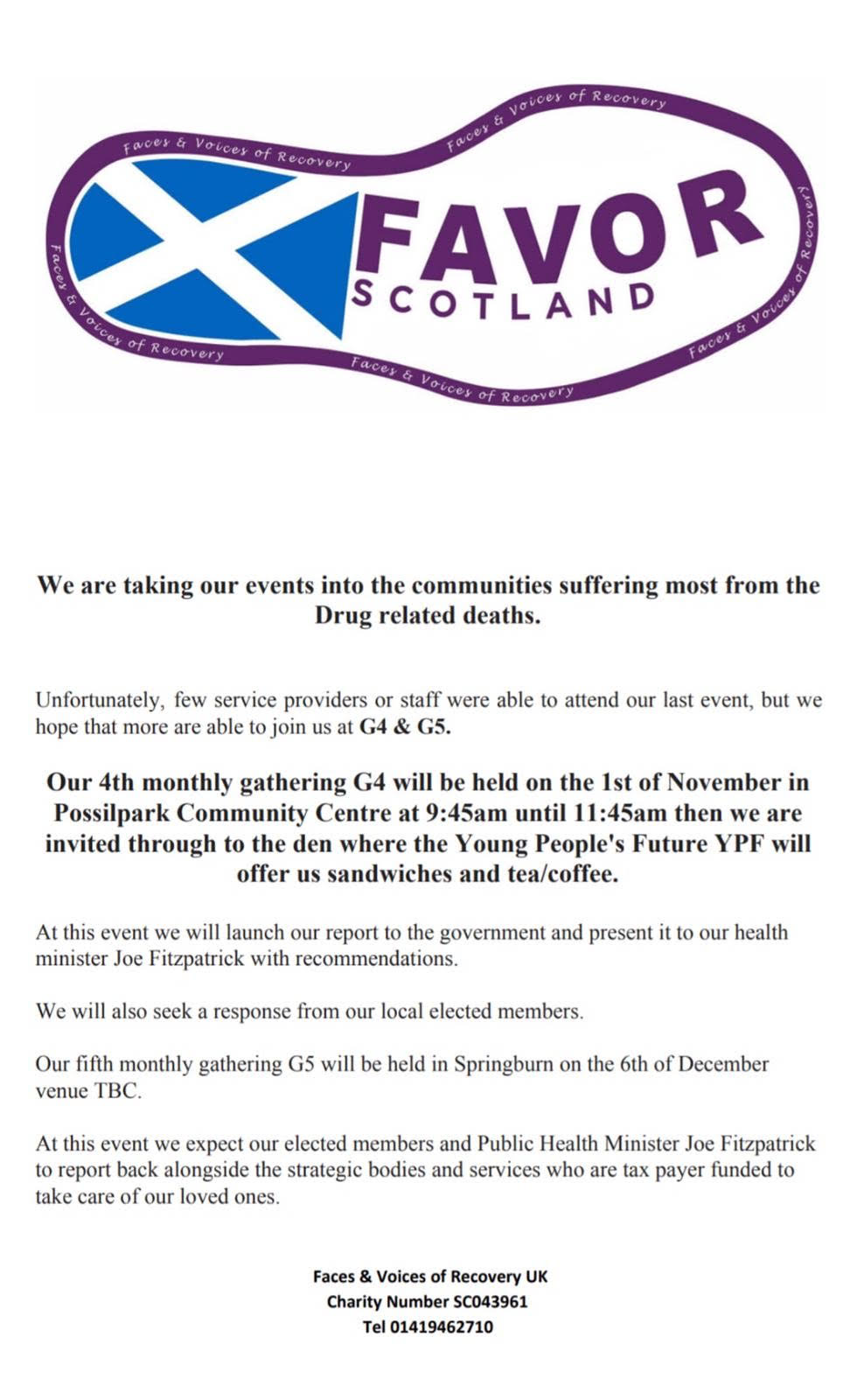 FAVOR | Charity Number SC043961