Please join us for our 5th Monthly Drug Death gathering. 
Please join us for a candlelit vigil at Springburn Parish Church and a procession through the town to mark the deaths of those who died and to show support for the families who are bereaved.
Please book a spot here if you can but dont worry if not just come on the day.
https://www.eventbrite.co.uk/e/springburn-candlelit-vigil-for-drug-deaths-tickets-76910849421?aff=efbeventtix&fbclid=IwAR2d9lmm6YFvQmJd57wAL7diOb9oYZ8JBey4o64gsfQ_5zKJX6cEDD9Mn8c
Were we are holding the Government to account.
Our 5th monthly gathering G5 will be held on the 6th of December in Springburn Parish Church from 4:30pm until 7:30pm.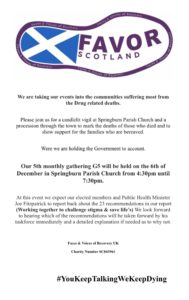 We expect the minister Joe Fitzpatrick to attend and let us know what he is doing about the 23 recommendations to stop the drug deaths we set out in our report delivered last month at G4 which you can read about at the links below. 
https://www.theguardian.com/society/2019/nov/01/scottish-government-urged-to-declare-drug-addiction-emergency
https://www.eveningtimes.co.uk/news/17999414.glasgow-drug-deaths-new-report-demands-immediate-action-crisis/
https://www.dailyrecord.co.uk/news/scottish-news/drugs-kill-scot-every-seven-20531578
https://www.eveningtimes.co.uk/news/18023607.stewart-paterson-drugs-summit-must-happen/
http://176.32.230.19/facesandvoicesofrecoveryuk.org/working-together-challenge-stigma-save-lifes/
or download the full report here