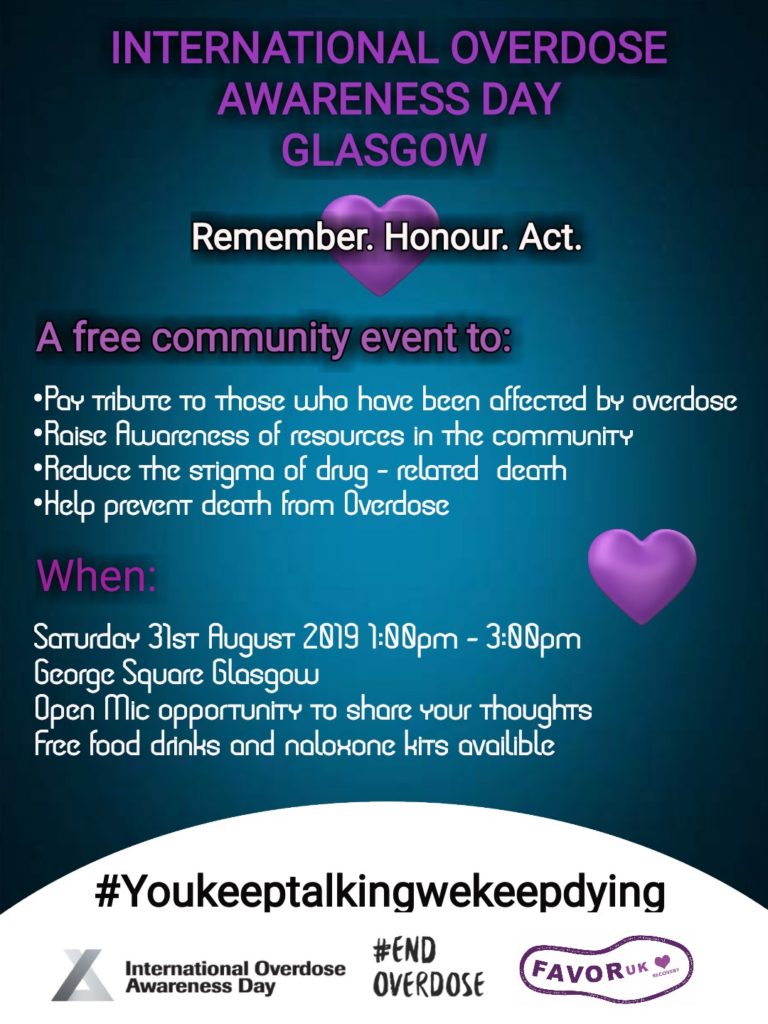 International Overdose Awareness Day originated in Melbourne, Australia in 2001.
Aims
International Overdose Awareness Day aims to raise awareness of overdose and reduce the stigma of a drug-related death.
It is also an opportunity to stimulate discussion about evidence-based overdose prevention and drug policy.
International Overdose Awareness Day acknowledges the grief felt by families and friends remembering those who have died or suffered permanent injury due to drug overdose.
International Overdose Awareness Day spreads the message about the tragedy of drug overdose death and that drug overdose is preventable.
The goals of International Overdose Awareness Day are:
To provide an opportunity for people to publicly mourn loved ones in a safe environment, some for the first time without feeling guilt or shame.
To include the greatest number of people in International Overdose Awareness Day events, and encourage non-denominational involvement.
To give community members information about the issue of fatal and non-fatal overdose.
To send a strong message to current and former people who use drugs that they are valued.
To stimulate discussion about overdose prevention and drug policy.
To provide basic information on the range of support services that are available.
To prevent and reduce drug-related harm by supporting evidence-based policy and practice.
To inform people around the world about the risk of overdose.
Press Release 
The latest statistics on Scotland's drug-related deaths  make for shocking reading. 1187 drug-related deaths were registered in Scotland in 2018, 253 more than the previous year. This represents a 27% increase since 2017 and is more than double the figure for 2007. Deaths have been at record levels for five years  in a row.  At 21.98 deaths per hundred thousand people, Scotland's drug death rate is now:
Most drug-related deaths involve more than one substance.
Heroin and/or morphine was implicated in 45% of the total – 537 deaths.
The number of deaths was more than ever before for:
1021 deaths from Opiates (e.g. heroin/morphine) or synthetic opioids (e.g.methadone/fentanyl) as a group
792 deaths from Benzodiazepines as a group (previous highest 552 in 2017)
273 deaths from Cocaine (previous highest 176 in 2017)
Natalie Mclean had this to say in response to figures:
"I have watched the figures rapidly increase since 2011, its time we focus our approach on those with lived experience of recovery and not those with 30 years experience of addiction. Unless radical changes are made the numbers will continue to rise ."
Dougie MacMillian said "We now have a situation in Scotland where more than 3 people a day are dying from illicit drugs, we need to stop pushing those who are most at risk away from the protection of the law.  If those substances currently prohibited by legislation from half a century ago were legalised, and regulated, and controlled, we wouldn't have another family bereavement every 7 hours and 12 minutes. Scotland has its own legal system and its own independent health service.  However, the Misuse of Drugs Act (1971) defines drug use, first and foremost, as a crime; forcing Scotland's government and public services to respond in kind.  It's time the Scottish Government demanded the powers to remove this legislation and treat the use of drugs as a public health issue, allowing us to help people without stigma, without shame, and most importantly as citizens."
Annemarie Ward from Faces & Voices of Recovery UK said
"Each & every  one of the UKs drug deaths are an avoidable tragedy, and the failure of our treatment systems, politicians in Westminster and Holyrood to act is an abhorrent catastrophe . This public health crisis is a consequence of a one size fits all, woefully inadequate treatment system, socially inadequate conditions, poverty, and a class issue. It is predominantly our poor people from poor neighbourhoods who are losing their lives. The figures released last month in Scotland showed 1187 drug deaths 3 times that of England, the worst in Europe brings absolutes despair across our nation. We would like to offer our sincere condolences to everyone affected.  No part of the UK should be the drug-death capital of Europe – let alone of the developed world. It is in the hands of the UK and Scottish Governments to stop this catastrophe continuing, and they need to act now.
For media enquiries please contact [annemarie@facesandvoicesofrecoveryuk.org]
Notes to editor:
About Faces & Voices of Recovery UK
Faces & Voices of Recovery UK are a national charity, made up of individuals in recovery, their friends and families and Community Recovery Organisations.
We are a policy advocacy movement that is taking on issues of discrimination, social justice and service access. A public and professional education movement, intent on challenging stigma.
Faces & Voices of Recovery UK is dedicated to organising and mobilising:
the recovery community in recovery from addiction to alcohol and other drugs
our families, friends and allies into recovery community organisations and networks.
For further information about Faces& Voices of Recovery UK's work or to find out how to support the charity, please email info@facesandvoicesofrecoveryuk.org or visit www.facesandvoicesofrecoveryuk.org. Follow us on Twitter and Facebook.