The #UnHeardVoices Campaign
This social media campaign, established between Marriott Communications, SISCO, and FAVOR UK, directly challenges and draws attention to the ever-expanding gaps and negative deficits within government, social, and health-related policies and priorities, by highlighting the 'Unheard Voices' of the vulnerable men directly impacted by these failings. #UnheardVoices, through the medium of blogs and infographics, aimed to further discussions in regards to the improvement of funding, awareness, and services overall.
We are pleased to announce the huge success of their #UnheardVoices Zoom Panel. The #UnheardVoices zoom panel was a culmination of the various topics and discussions originally had within the campaign. The panel featured talks from several esteemed guests, including: Darren McGarvey, Dr Suzanne Zeedyk, Iain Smith, Monica Lennon MSP, Bob Doris MSP, Leeh Howell, Karen McKeown, Annemarie Ward, Natalie Logan MacLean, and Samuel Marriott-Dowding.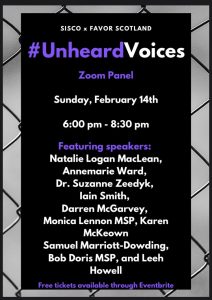 The panel explored several themes related to recovery, addiction, lived experience, and childhood trauma. By highlighting and drawing attention to these themes through an honest and open context, it is hoped that addiction discourse will be furthered and consolidated beside improvements to recovery services, funding allocation, public awareness, and political support.
You can download the report from the event here by clicking on the link  #UnheardVoices Panel Summary
You can read our press release for the event here #UnheardVoices_ Press release_ 22_Feb_2021
And you can now watch the event that was recorded live here https://fb.watch/3Pq7uv7mVU/
for those that dont have access to @Facebook it can be watched here @YouTube Video link https://youtu.be/40pRfOMH0vU